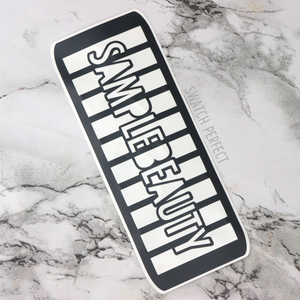 Sample Beauty - 10 Pan Stencil | Inspired by Sample Beauty
This detailed design features 10 evenly spaced stripes, complemented by the Sample Beauty logo.
We designed it to be used with any of the 10 shade palettes within the Sample Beauty line - from the rich neutrals in the Reign Palette to the stunning rainbow hues of the Immensity Palette, this stencil is sure to get your swatches noticed!
Please note that this is a very detailed stencil - while we use the highest quality vinyl and swatch test all our designs, we advise that you are gentle with this design to get the best result.
Part of our new Inspired By line, featuring stencil designs inspired by cult makeup products! Click here to see the full range - more coming soon...
You will receive:
1 x Sample Beauty 10 Pan Stencil
The full stencil measures 16cm tall x 6.5cm wide
Please note that this stencil is not in any way endorsed by Sample Beauty - we have created this design so that the many fans of the brand can show their appreciation and support for their products.
Colour may vary